Technical Engineering Manager, Martyn Blackburn celebrates a significant milestone this year celebrating 21 years with the company. After completing his apprenticeship, he joined Rainford as a toolmaker and the rest is history, with plenty more in the making.
Following various roles which involved Martyn heavily in the machinery, tooling and processes in the company, he moved into the new role of Technical Engineering Manager two years ago, which was created to support Rainford's growth. "I prefer not to sit behind a desk and like to be hands on right across the business and with customers so my experience and knowledge of the machinery and processes fitted really well," he explains.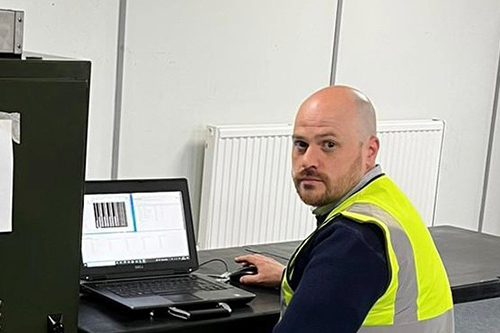 He's involved with customers as well as the tooling, manufacturing and assembly teams providing support and troubleshooting where needed. He plays a valuable role connecting with customers in the early stages of a project, working with them to understand their needs for their equipment and sharing this with Rainford's engineers so that the best solutions can be developed.
"Our customers know what their equipment can do but don't fully understand what we can do for them, especially around things like thermal and IP protection. I work with them on writing the specification, or fine tuning theirs, so we can design the best enclosure for their equipment.
"One day I'll be talking to a systems integrator, the next it might be an end customer who wants a prototype for trial which might require further design changes. It's very varied, but the focus is on making sure that we fully understand the customer's needs and ensuring we create an outstanding solution and then of course making sure it gets delivered on time," he says.
A typical day starts with checking emails and then a 9am production meeting with teams in manufacturing and assembly to update on progress and deal with any issues. Martyn will then catch up with engineers and walk round the shop floor and the assembly area to see how work is going and help with any issues. Next will be calls or visits to customers to support them or help move a project on.
He's delighted to be back out visiting customers now that Covid restrictions have been lifted and feels getting face to face with people is really important. "Meeting customers on site is so much better because we can really get to the nub of what they need – which can sometimes be different to what they think or say they want. They can show us their equipment or their previous enclosure, so we can see first-hand what the situation is."
Martyn also looks after the toolroom, as well as designing new tools where a need is identified for the toolroom team to make.
He's also leading on a new project that will enable Rainford to create and store nitrogen on site for the laser machines. He explains, "We currently buy in liquid nitrogen for the laser cutting machines, but it can be quite difficult to manage the supply correctly because it fluctuates widely depending on the number of jobs coming through and what material needs cutting. By creating our own supply, we'll never run out, use what we need when we need it and won't be dependent on a third party to deliver it."
The project has just been approved, so Martyn will be busy over the coming months bringing it to fruition including sourcing and buying a new compressor to generate the air and setting up processes to separate the nitrogen, store it and mix it to the right purity for the laser cutting machine.
When asked what the best piece of advice is that he's ever been given, Martyn said it was to step back and assess the whole situation when trying to find a solution to a problem. He will no doubt have heeded this advice lately with the new nitrogen project.
Outside of work, Martyn enjoys watching rugby with his two sons and supporting St Helen's RFC.