The climate is getting warmer, wetter, and stormier. What does that mean for railway infrastructure?
In the UK, meteorologists have been collecting detailed rainfall data every day since 1862. Of the ten wettest days recorded during that 160-year span, six were in the past quarter of a century[i]. As global temperatures increase, drier summers and rainier winters are becoming the norm. And when the rain arrives, it is more likely to pour. Analysis of weather data has shown that autumn days with more than 50mm of rainfall are now 60% more common than at the beginning of the last century[ii]. Met Office modelling suggests that extreme rainfall events will become 29% more frequent during this one[iii].
This ongoing increase in extreme precipitation has big implications for the country's infrastructure, including its railways. Drainage systems need to be sized to cope with peak events, not averages, for example. And the risk of flooding increases substantially when more of the year's rainfall arrives all at once.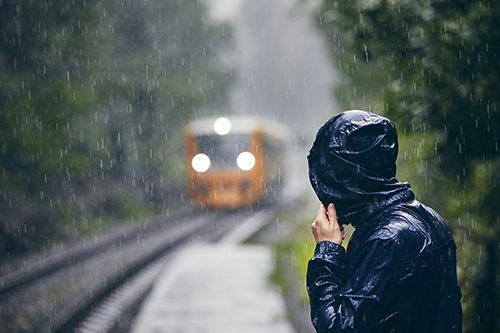 It isn't just catastrophic storms that have the potential to disrupt railway operations, however. Even everyday wet weather can cause significant problems if water is allowed to get to the wrong places. On the modern railway, electrical and electronic equipment is particularly vulnerable to moisture ingress, which can trip circuits, confuse sensors, and destroy sensitive components.
There are already thousands of electrical and electronic assets in use across the UK rail network, performing vital control, monitoring and communications functions. And as the transition to the digital railway gathers pace over the coming years, that number is set to rise substantially. Some of those assets are designed for arduous outdoor use, with rugged casings that offer inherent protection against water, dust and tempering. But plenty of them rely on an external enclosure to provide a dry, safe, and secure operating environment.
The water-resistance of an enclosure for low voltage electrical equipment is defined by part of EN 60529 (British Standard BS EN 60529:1992), the international standard for the ingress protection of electrical equipment. You can read more about that standard here, but at the simplest level, the water ingress protection offered by an enclosure is explained by the second number in its IP rating. Enclosures designed to meet IPX2 standards offer protection against vertical or nearly vertical water sprays, which in practical terms means rainfall. IPX3 and IPX4 standard enclosures offer additional protection against water sprays and splashes from directions other than the vertical. IPX5 and higher standards are used in applications where equipment may be exposed to high pressure water jets or total immersion.
Electronic equipment makers will specify the minimum degree of protection their equipment requires. Users are free to adopt a higher standard, but greater protection can create problems of its own. High IP-rated enclosures are more complex and costly, for example, and excessive ingress protection can make it harder to keep equipment cool on hot days.
To ensure an enclosure delivers the specified level of protection, users also need to pay attention to installation and maintenance. Cable access points must be appropriately sited and sealed where necessary. And protection will be compromised if panels and doors are damaged, missing or poorly secured.
Rainford Solutions has more than 40 years of experience designing and manufacturing enclosures for critical infrastructure applications in the railway industry and beyond. Our products deliver proven performance in the most demanding environments, from extreme heat and cold or water and dust ingress to electromagnetic interference and seismic activity. As the climate changes, our Consult, Design, Make and Protect process offers a fast and cost-effective route to the protection you need, whatever the weather.
---
[i] https://www.metoffice.gov.uk/research/climate/understanding-climate/uk-and-global-extreme-events-heavy-rainfall-and-floods
[ii] https://www.sciencedirect.com/science/article/pii/S2212094721000372?via%3Dihub
[iii] https://www.metoffice.gov.uk/binaries/content/assets/metofficegovuk/pdf/research/ukcp/ukcp18_headline_findings_v3.pdf